The UK's John Whittingdale, who is his country's secretary of state for culture, media and sport as well as a member of parliament, got an up close and personal tour of Huawei's headquarters in Shenzhen, China.
Whittingdale's Friday tour of Huawei's exhibition hall was conducted by Sun Yafang, who is chairwoman of the company's board. After the technology showcase, Whittingdale had a lunch meeting with Chen Lifang, Huawei group board director and senior vice president, and Huawei UK board director.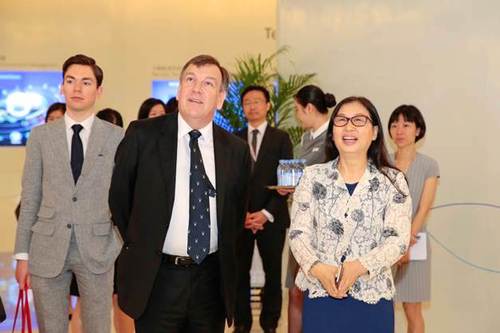 "Huawei's technology has played a significant role in the development of telecoms services in the UK, including the roll-out of 4G mobile networks," he said in a prepared statement. "I'm looking forward to learning more about its innovative work and discussing how we can encourage Chinese businesses such as Huawei to continue investing and growing in the UK."
Huawei Technologies Co. Ltd. opened its first office in London in 2001 and counts BT Group plc (NYSE: BT; London: BTA), Vodafone UK and TalkTalk as some of its UK customers.
— Mike Robuck, Editor, Telco Transformation