The worldwide carrier WiFi market is forecast to reach $1.5 billion by 2020, according to a recent IHS report.
Spurred along by two segments -- standalone WiFi access points deployed by fixed-line operators, MSOs and wireless ISPs as well as dual mode WiFi/cellular access points by mobile operators -- the carrier WiFi market will have a cumulative size of more than $6.8 billion from 2016 to 2020, according to a report by IHS Inc.
Overall, the global carrier WiFi equipment market totaled $713 million in 2015. Carrier WiFi equipment revenue reached $375 million in the second half of last year, which was a 6% increase over the first half of the same year, IHS says.
IHS credited a diverse customer base and technologies such as Hotspot 2.0, 802.11ac and network functions virtualization (NFV) for the year-over-year growth dating back to 2007.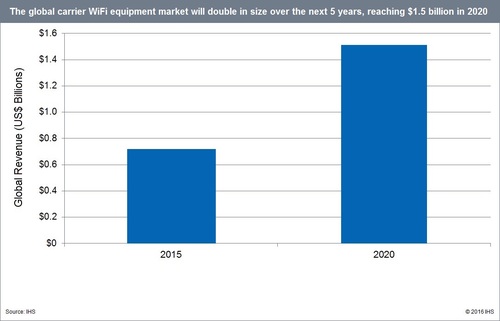 — Mike Robuck, Editor, Telco Transformation