According to a recent study, 16% of the broadband homes in the US subscribe to an OTT video service, with NFL Game Pass accounting for the lion's share of those subscriptions.
NFL Game Pass has a 6% penetration rate in US broadband households, despite its lack of live streaming, compared to the WWE Network and MLB.tv at 4%.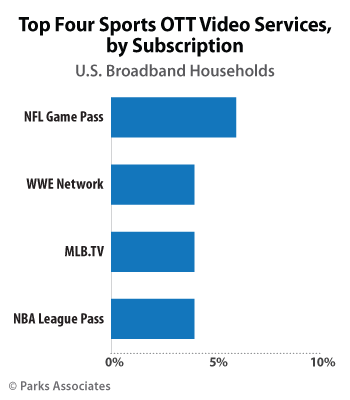 For now, NFL Game Pass is able to tap into pro football's popularity without dealing with any of the potential issues from live streaming.
A large number of the consumers who signed up for OTT sports services did so through their service providers, including 63% by NFL Game Pass users, according to a study by Parks Associates .
"Leagues lean heavily on television distribution partners for revenue, and disruption to existing distribution models may give television partners pause," said Glen Hower, research analyst, Parks Associates. "A rapid expansion in sports OTT growth requires either heavy external investment from a streaming distribution partner -- like a Google or Apple -- or a tiered business model that targets key consumers for all-access services."
— Mike Robuck, Editor, Telco Transformation