Amazon has ratcheted up its OTT battle with Netflix with Sunday's news that it will now offer its video-steaming service as a standalone option.
And to further incentivize Netflix Inc. (Nasdaq: NFLX) subs to churn their way over, Amazon.com Inc. (Nasdaq: AMZN) has priced its standalone tier at $8.99 a month, which is one buck less than Netflix's standard tier. Amazon's video service started out as an added perk for paying $99 a year for the company's Prime service, but now Amazon appears confident in taking on Netflix directly.
Amazon also announced that it was unbundling its Prime service. Instead of costing $99 a year, Amazon is now offering Prime for the monthly price of $10.99. The new monthly charge will give users more flexibility for using Prime during holiday shopping seasons such as Christmas.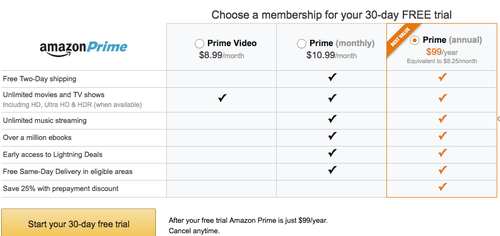 Whether Amazon is successful in luring Netflix subscribers over to its streaming service will likely hinge on the type and amount of content it can offer. Like Netflix, Amazon has invested in original content while also battling other streaming service providers for rights to movies, shows and film festival content.
Netflix, which is reporting its first quarter earnings on Monday, has plans that range from $7.99 a month to $11.99, but most of its subscribers pay $9.99. Customers that were grandfathered into the $7.99 per month charge will start paying $9.99 next month. Minus the ability to stream two streams at once and HD content, customers could still opt to pay $7.99 per month. Hulu charges $7.99 to 11.99 a month.
According to a study last week by Parks Associates , Netflix remains the over-the-top (OTT) video leader in the US with 52% of the broadband households paying for its service at the end of last year. For Amazon Prime Video, 24% reported having a subscription during the same time frame while Hulu LLC had 14%. (See The OTT Maelstrom.)
— Mike Robuck, editor, Telco Transformation