Last week's Telco Transformation poll took a 360-degree view of virtual reality and found that service providers have their work cut out for them in regards to making VR a better experience.
The poll asked: "What should service providers' priorities be this year in regards to virtual reality?" Two of the top three vote getters were joined at the hip. Leading the way with the most votes was "Improve latency for VR's performance requirements" at 33% while "Increase bandwidth to meet new visual demands" was tied for second at 29%.
"Ignore the whole thing; it's just a fad. Remember Second Life," also had 29% percent of the votes. (Second Life was a 3D virtual world that launched in 2003, but has since faded.) "Forget consumers this year; industrial and commercial VR applications are the moneymakers," garnered 9% of the votes for last place.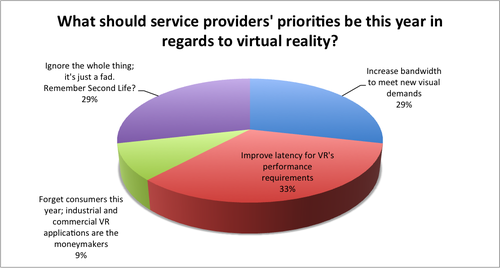 VR created a buzz in January during CES 2016 in Las Vegas and last week
Facebook
released its highly touted Oculus Rift viewing device for consumers. On Monday, the less well-known HTC Vive was launched to compete with Oculus. Vive is a joint venture between HTC and video gaming company Valve.
While not everyone is ready to plunk down $599 today for an Oculus Rift headset, or $1,500 when it's bundled with a compatible computer, a recent report by BBC Research said the global market should reach $105.2 billion by 2020, which is up 67% from last year's $4.5 billion.
For a deep dive into VR, check out this recent report by Heavy Reading, which was also the basis for a Telco Transformation infographic. (See Virtual Reality: Poised for Liftoff.)
— Mike Robuck, Editor, Telco Transformation