The Telco Transformation tribe has spoken. Last week's Telco Transformation poll asked, "What's the best way for communications service providers to roll out NFV in their networks in 2016?"
The top vote getter was "Use their own teams to mix NFV solutions from best-of-breed vendors" at 31%, which makes sense for large communications service providers with deep pockets and a keen awareness of what they want to accomplish with NFV this year.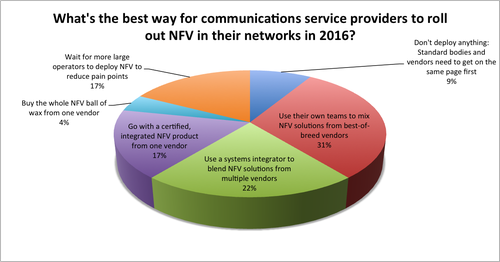 Sliding into second place in the poll, at 22%, was "Use a systems integrator to blend NFV solutions from multiple vendors." "Go with a certified, integrated NFV product from one vendor" and "Wait for more large operators to deploy NFV to reduce pain points" tied for third at 17%.
Rounding out the poll were "Don't deploy anything: Standard bodies and vendors need to get on the same page first" and "Buy the whole NFV ball of wax from one vendor" with 9% and 7%, respectively.
— Mike Robuck, editor, Telco Transformation